Billiards Manual-Three Cushion Vol. 1
Only $74 Includes shipping
After years of efforts to satisfy the high standards of the author we are pleased to offer this long-awaited translation into English. 
The discipline of Three-Cushion, considered by many to be the highest form of carom billiards, is explained, analyzed and discussed in great depth, supported by more than 800 graphic illustrations.
The book can serve as a training guide for the novice, as well as a reference manual for the advanced player. It addresses all elementary components of the game, and also presents innovative solutions to difficult positions.
Sound technical advice is offered, and intelligent sport psychology is discussed, combining in a work designed to improve every serious three-cushion player's game.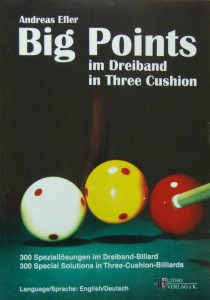 Only $74 Includes shipping
The new book of Andreas Efler shows 300 special Solution in three cushion divides and categorized in different columns. The author explains the shot techniques with a special developed symbolic written in English and German language.