Johnny Archer Wins 2 Years in a Row at Music City 9-Ball Open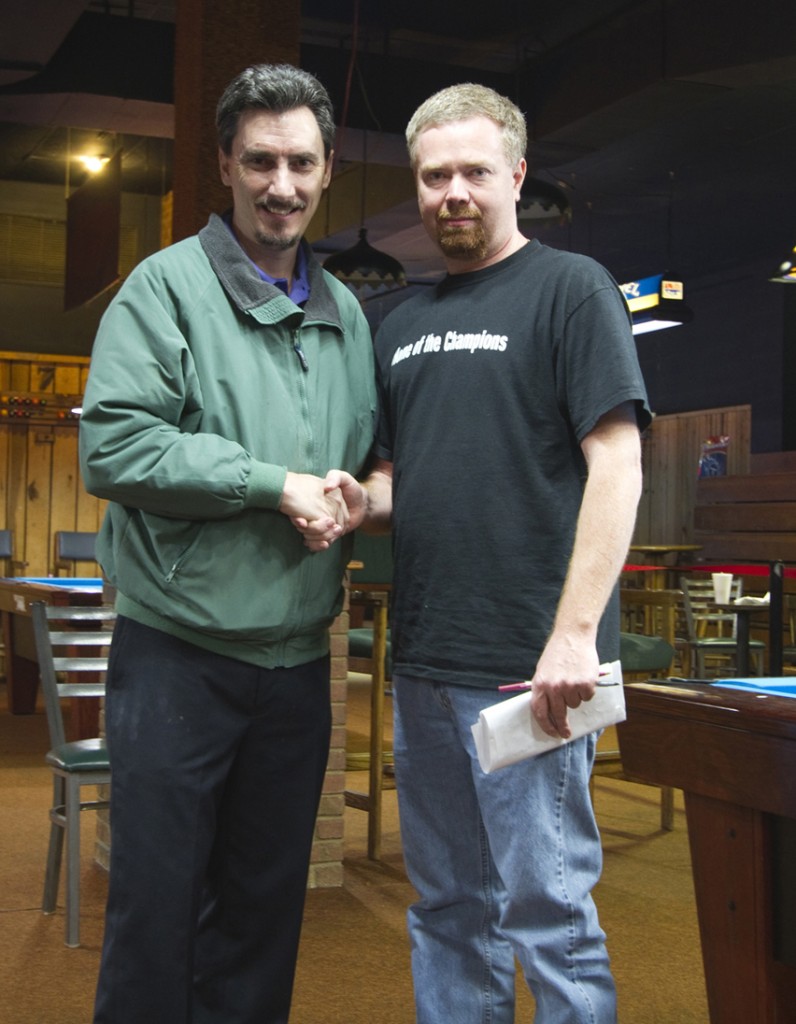 Johnny Archer & Ricky Gamble (Owner)

  by Steve McDonald
For 25 years running, Nashville, Tennessee's premier billiard club, JOB Billiard Club, hosted the 25th annual Music City 9-Ball Open held January 11-15, 2012.  Miller Lite, Alex Brick Custom Cues, Diamond Billiard Products, Simonis Cloth, Nick Varner Cues and Cases, Magic Ball Rack, and The Bigtruck Show/poolactiontv.com sponsored the event.  This was the second year for JOB's new owner, Ricky Gamble, as Jim Blaylock, previous owner, is still enjoying retirement.  Ricky still has, former WPBA Touring Pro, Peg Ledman as General Manager of the club and they are keeping the tradition alive for JOB's.
Two Hall of Famers were present for this event……..Johnny Archer and Buddy Hall.  Also, legendary cue maker and player Bill Stroud entered this event.  Legends and tradition are common place at JOB's.
This year Johnny Archer got lots of playing time in and completed a very tough task, as he won both the Midnight Madness on Saturday night and the main event, which ended about 2:00am Monday morning.  And he did so against fields of very stout players.
Tournament Director Steve McDonald had a busy week as 55 mini tournament players, 85 open division players, and a full field of 32 ladies division players showed up for the competition that was held on 7-foot Diamond Smart Tables with Simonis Cloth.  This year the Magic Ball Rack was used in every match and there were many break and run games and a number of up to 8 rack strings put together.
This year all the action was covered via live streaming by The Bigtruck Show at poolactiontv.com.  Big Truck Ray Hansen did a great job providing fans everywhere with live pool action from JOB's.  Check out poolactiontv.com.  And as usual for JOB's tournaments, Spider was there to take photos of all the action.  He got lots of photos for the event, so if you need photos, call Spider at 615-804-4671.
Action got kicked-off Wednesday night with a 9-ball, race-to-9, single elimination mini tournament.  55 players entered this event and defending champ, Josh O'Neil, from last years mini won again, defeating Robb Saez in a hill to hill final match.
The main tournament format is 9-ball, race-to-11, double elimination in the Open Division and race-to-7 in the Ladies Division.  This tournament has always been a full double elimination event, and this year the Open Division went the full two rounds in the final with, Hall of Famer, Johnny Archer defeating Larry Nevel, a first timer at the Music City Open, in two sets.  Young Gun Shane McMinn finished a strong third, with Road Man Justin Cone rounding out the top four.
In the Ladies Division, WPBA Touring Pro, Nicole Keeney, stepped up from last years second place and went undefeated through the field to win over Kristan Tidwell.  Lisa Porter played a great tournament finishing third and Donna Favors from Chattanooga rounded out the top four.
On Saturday night, JOB's always has Midnight Madness at this event.  This always proves to be a great and exciting event, as it is 8 players in a single elimination format, race-to-11, winner take all 9-ball.  It is a $500 entry fee, so that makes $4000 to the winner.  This year Hall of Famer, Johnny Archer defeated Nick Hickerson, former Volunteer State Champion, in the final.  Johnny played late Saturday night, got very little rest, then won the main event on Sunday.  That is tough by any standards.
A beautiful $1500 Alex Brick Custom Cue was raffled off and given away just before the finals.  The lucky winner was Rachel Knight, a local JOB's regular player.
Tournament Results:
Kick-Off Mini Tournament
1st            Josh O'Neil                                    $465
2nd            Robb Saez                                    $300
Open Division
1st            Johnny Archer                                    $3470
2nd            Larry Nevel                                       $2040
3rd            Shane McMinn                                    $1300
4th            Justin Cone                                          $865
5th/6th            Robert Frost /
Johnathan Hennessee                        $600 ea
7th/8th            John Gabriel /            Nick Hickerson            $390 ea
9-12       Gabe Apollos, Mike Dunklin
Tony Mougey, Josh O'Neil                        $245 ea
13-16    Tommy Greer, Robb Saez
Lee Uhles, Randy Vaughn                        $185 ea
17-24Bobby Conner, Eric Hall
Mike Jones, Billy Martin,
Sam Monday, Chuck Raulston,
John Tate, Joey Yarbrough                        $125 ea
Ladies Division
1st            Nichole Keeney                                    $930
2nd            Kristan Tidwell                                     $675
3rd            Lisa Porter                                                $460
4th            Donna Favors                                            $275
5th/6th            Lonnie Fox / Amanda Townsend     $215 ea
7th/8th            Ashley Nandrasy / Rebecca Sullins   $155 ea