Professor-Q-Ball Rushville Fall 3-Cushion Billiard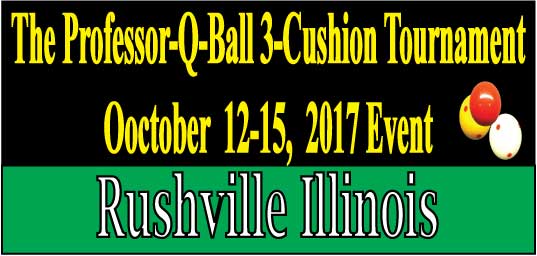 Updated players list and A Waiting List has been established.
1
Joe Van Vooren
IL
2
Gary Eake
WI
3
George Ashby
IL
4
Mike Miller
WI
5
Ernest Picklesimer
OH
6
Fred Lamers
MN
7
John Logan
MN
8
Paul Frankel
TN
9
Joshua Alldridge
IL
10
Craig Powers
WI
11
Tom Paley
MO
12
Dale Saunders
WI
13
Russ Rosenberger
IA
14
Tim Mumma
IA
15
Paul Dryer
IL
16
Ken Holstrum
MD
17
Gary Scharf
MI
18
Felipe Razon
IL
19
Luis Milan – Felipe
IL
20
Luis Maciel – Felipe
IL
21
Mickey Campbell
MN
22
Bob Keller
WI
23
Nam Cho
WI
24
Berkay Keskin
MD
25
Lupe Cruz
WI
26
Brian Haff
IL
27
Erick Valerio
IL
28
Dennis Douberteen
IN
29
James Richards
WI
30
Steve Abrams
WI
31
Mazin Shooni
MA
32
Bernie Kapinos
WI
33
Rob Hovick
WI
34
Olegario Gonzalez
IL
35
Joe DeAmato
MA
36
Sabino Manriquez
IL
   A Waiting List has been Established
Entry Registration for the Professor-Q-Ball FALL 3-Cushion Billiard Event is Now Open!
DATE:   

Thursday October 12th to Sunday October 15th, 2017
You will NOT be Registered until I Receive your Payment!
This popular event typically fills fast so do not delay. It has filled

in 24 hours

at one time in the past.
Payment First Received – First Registered. 
SEND YOUR PAYMENT NOW TO RESERVE YOUR SPOT! 
Full Refunds for any reason if you cannot attend.
If paying by Check make checks to:     Gary Eake
Mail Checks to:  (remember it takes 5 to 7 days for U S Mail to arrive from just about anywhere in the USA)
Gary Eake
947 Trillium Trail
Oshkosh WI 54904

Event Brochure:
Click this Link for Complete Tournament Details, Travel Hints and Area Lodging Options:
WAITING LIST:  For a variety of reasons it is highly likely some registered players will need to withdraw. Therefore, if you are too late for the initial 32 Player Roster and want to play register ASAP and then promptly send your $150.00 entry fee to be placed on the Waiting List on a First Come basis.
If you cannot play in this event for any reason your money will be returned.
However, seven (7) days advance notice of cancellation would be appreciated to allow Waiting List players time to plan and travel.