7th Annual Bob & Marti Tracy Open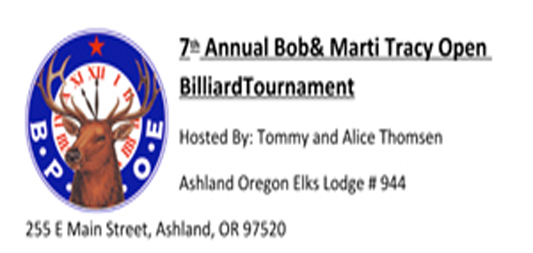 7th Annual Bob& Marti Tracy Open BilliardTournament
Hosted By: Tommy and Alice Thomsen
Ashland Oregon Elks Lodge # 944
255 E Main Street, Ashland, OR 97520
When: Friday October 5th-Sunday October 7th, 2018
Where: Ashland Elks Lodge #944
Entry Fee: $120.00 (includes $20 room fee) Deadline for Sign-up is September 29th
The Tournament will be limited to the first 24 players who have sent their entry fee in to the Director or Chairman of the event. This Tournament is open to all players The prize fund will be distributed into 3 separate pools, one for "C" Players, one for "C+ " Players and one for "B" Players and above. Each Pool will be determined by the number of players in that respective Pool. This is not a USBA Sanctioned tournament. MOBPA will donate $100.00 per entry to prize fund. With a full field of 24 there will be a total prize pool of $ 4800.00 available.
Tournament Format: Depending on number of Players we intend to play 25 Point games with mixed flights. Top finishers from each flight/division will advance to Sunday Finals. Losses in flight will carry over to finals. Ties will be broken by Win/Loss, Total Points Scored, Head to Head, Defensive Billiards. All players in the finals will share the prize pool.
Players Meeting: Players at 0900 sharp Friday
USBA Rules will apply, Dress code is casual but neat, no sleeveless shirts.
Make Checks out to : Tom Thomsen
Mail your Entry Fees to : Tommy Thomsen
1416 Larson Creek Drive
Ashland, OR 97504
Contact Tommy Thomsen at tombooks999@gmail.com or phone 1-509-240-2027