CANCELLED American 14.1 Straight Pool Championship Nov. 1-5, 2020 -See New Date
AMERICAN 14.1 STRAIGHT POOL CHAMPIONSHIP  Oct 31 – Nov. 4, 2021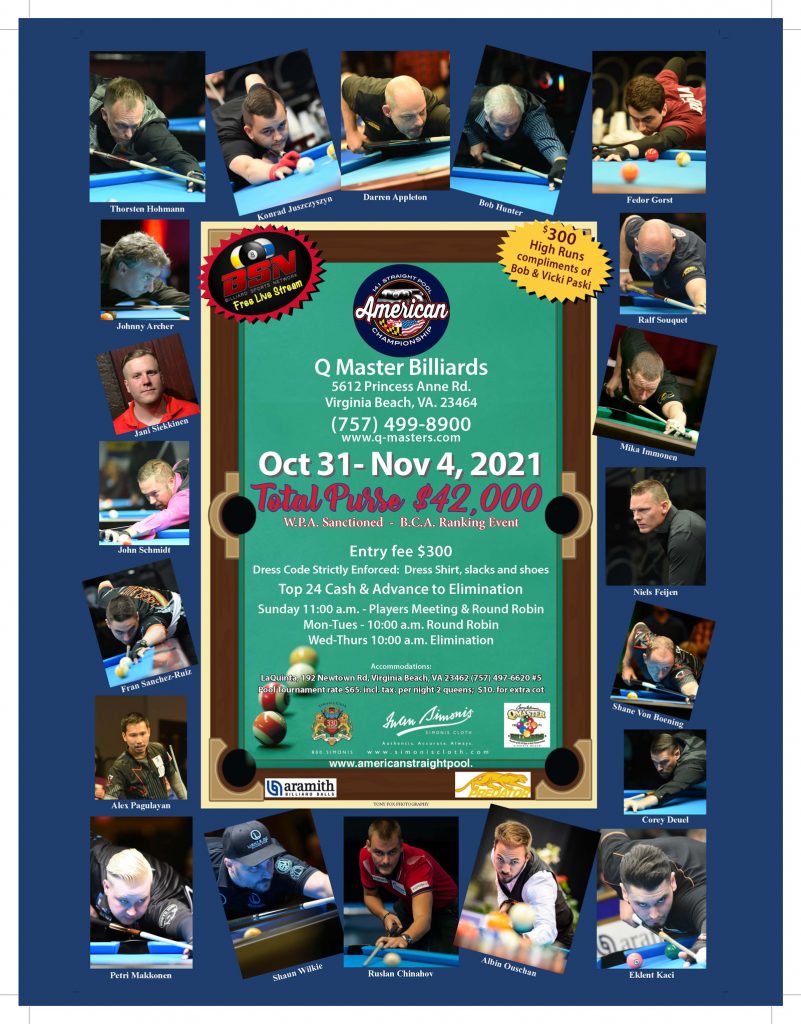 AMERICAN 14.1 STRAIGHT POOL CHAMPIONSHIP  Oct 31 – Nov. 4, 2021
With much regret we have officially cancelled this year's tournament Nov. 1-5, 2020 at Q Master Billiards.
We are looking ahead to 2021 with great optimism for a changed world . . . please put our new 2021 dates on your calendar and I hope you are able to again give us some much needed support next year.
AMERICAN 14.1 STRAIGHT POOL CHAMPIONSHIP  Oct 31 – Nov. 4, 2021.
Q Master, Virginia Beach, VAÂ Â Â Â Â  www.americanstraightpool.com
We immediately follow Pat Fleming's International One Pocket Oct 22-23, 2021;  International 9 Ball Oct 24-30, 2021.  Sheraton Waterside, Norfolk, VA.
We expect our 16th exciting 14.1 tournament and the best field ever including those listed on the attached flier and our website.  Check them both.
Thank you for your support which is so very meaningful to us.  
Peter Burrows  (410) 757-3488