Subscribe via Mail
To subscribe via mail order, follow the instructions below:
1. Print the form (below)
2. Complete all information on the form
3. Send it to the following address:
Professor-Q-Ball
2916 Waterleaf Dr – Germantown, TN 38138
Or call (901) 756-2594 & pay by credit card also.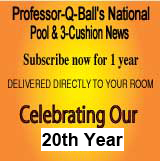 Subscription Form
1 Year's Subscription only $27.00
Delivered directly to your home.
Send Check or Money Order to :Professor-Q-Ball
2916 Waterleaf Dr – Germantown, TN 38138
Name________________________________
Address_______________________________
City_________________________________
State_______________Zip________________
Phone #_________________
Email ________________________________
© copyright 2015 professorqball.com