Dennis Dieckman 3rd Annual Memorial 3-Cushion Event Has New Dates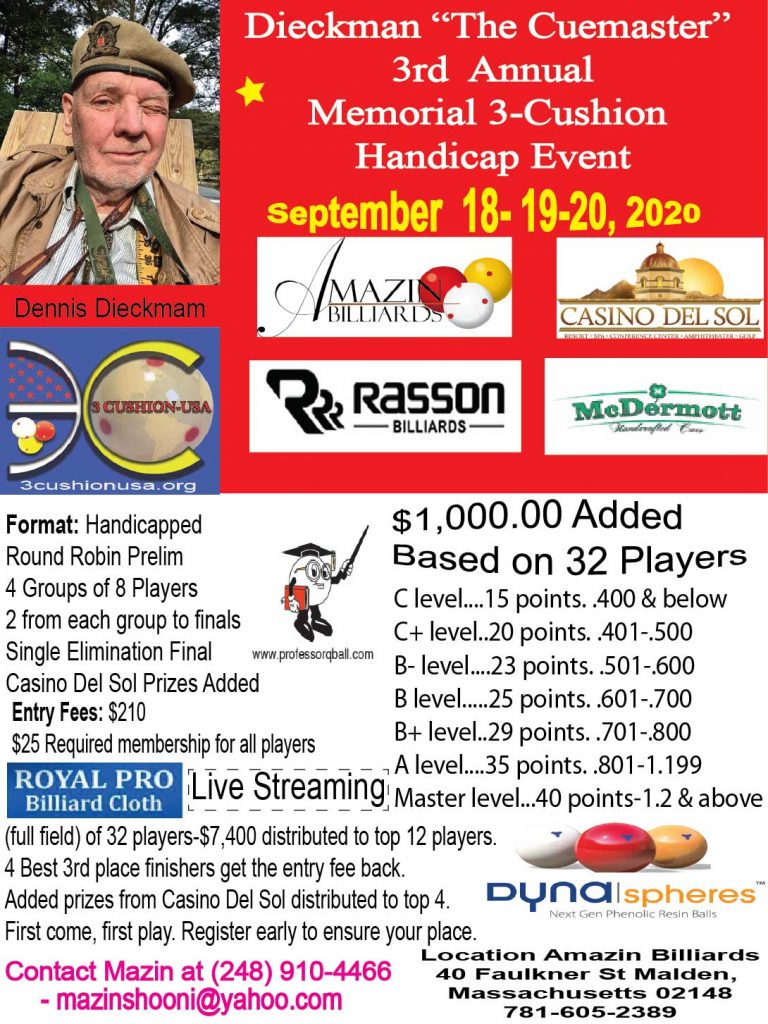 It's been a difficult year and I am excited to finally be able to scheduled a 3 cushion event, especially the Dieckman Memorial Tournament.  I want everyone to know that your safety is our foremost concern.  We plan to pay strict attention to public health measures laid out by our Governor.
All players, spectators and staff entering Amazin Billiards will be informally screened to ensure they are not ill.  Social distancing and personal protection equipment will be required in accordance with regulations.
We've been working hard and will continue to do so to navigate each phase of the Commonwealth's re-opening phase.  We can only hope that by September the world will be a safer place and we'll be able to play confidently without many restrictions.
Again, we will always aim to keep the safety of our players, spectators and staff to be our highest priority and therefore if need be, we'll encourage all to maintain focus in their personal efforts to social distance and adhere to recommendations regarding masking and hand hygiene while at Amazin Billiards.
We hope to have a great tournament and have everyone enjoy themselves and feel safe.  Thank you for your understanding and cooperation.
​​​​​​Sincerely,
​​​​​​Mazin Shooni
3 Cushion USA Promotion LLC        www.3cushionusa.org