Bob Keller Classic "Open" 3-Cushion Tournament The First Place prize of $10,000 is GUARANTEED!
o All 3-Cushion Enthusiasts:
Now in his nineties, Bob Keller's dream is to have as many Top National  (and International) Players as possible compete in a tournament at his Madison 3-Cushion Billiards Club.
To that end Bob has certainly stepped up to the plate financially. And, doubling as a Club Fund Raiser, this event will also help insure the future of the Club and future Club tournaments.
Review the FULL STORY completely and carefully for
Tournament Information and the Required Entry Form.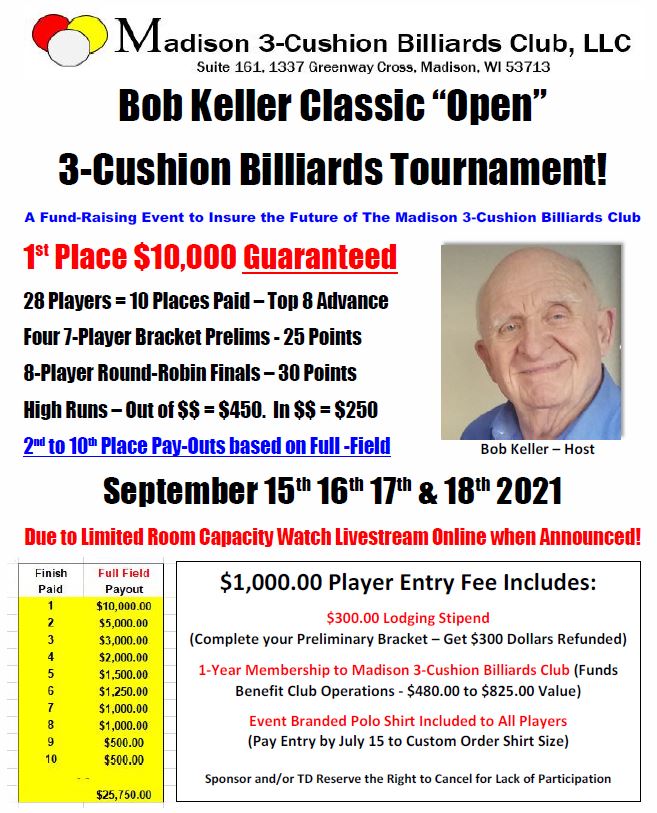 I believe I have covered most everything in detail, including Airline and Lodging Information
The first place prize of $10,000 is guaranteed and I actually have the money in my control so this is NOT speculation.
The 2nd to 10th place prize money is based on a full field of 28 players attending.
Please share this info with your Top Players to help make the event a success for Bob.
Top Players should pay their entry as soon as possible to insure their spot.
NOTE: Your Bank may limit payments by Zelle to $500 per day! If so, send your entry in two payments!
Gary Eake, Tournament Director    Cell & TEXT:  920.420.1304
CHECK OUT ALL THE FLYERS BELOW FOR DETAILS ALSO