Hugo Patino and Mazin Shooni took the title at the Pan AmericansCALI – The Americans Hugo Patino and Mazin Shooni are the winners of the Pan American championship for national teams. The strong team defeated in the final game the two Venezuelans Miguel Canton and Merlin Romero, who defended the title in Cali.
The return of the Americans, who were unable to show up last year because they played their own championship at that time, and Mexico have increased the tension and the level at the Pan Americans. Shooni and Patino played 1.174 overall average.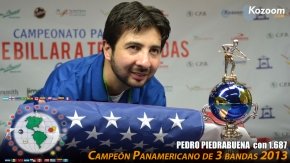 Six-time national champion Pedro Piedrabuena extended his dominance of three-cushion billiards by capturing his second Pan American Championship. Held in Cali, Colombia from June 23 to June 30, the tournament featured the best players of North, South and Central America. To get to the finals, Piedrabuena defeated defending champion Carlos Campino from Colombia in the quarter finals (40-33 in 25) and Cesar Garzon, also from Colombia, in the semi-finals (40-17 in 18).