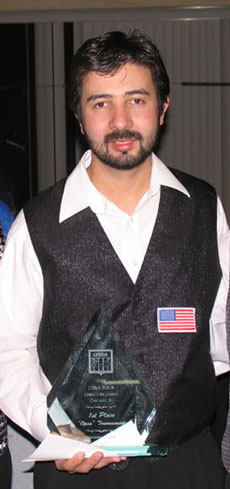 The New Panamerican Champion: Pedro Piedrabuena
The USBA sent 4 players to the CPB Championships in Buenos Aires, Argentina. The CPB (Confederacion Panamericana de Billar) is the governing body for 3-Cushion Billiards in both North and South America. The tournament took place August 5-8, 2009.
Pedro Piedrabuena won the event and is the new Panamerican (CPB) Champion. Hugo Patino finished in 6th. Miguel Torres finished in the top 16 and Michael Kang finished in the top 32. Pedro and Hugo, along with six other top CPB finishers will represent the CPB and their countries in the World 3-Cushion Championships which will be held in Lausanne, Switzerland, November 11-15, 2009. More details on the results at the CPB championship will be posted on the CPB website (http://www.cpbillar.net) as they become available.