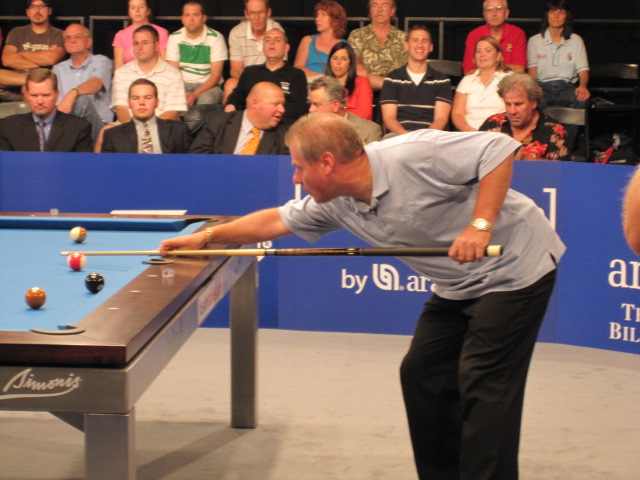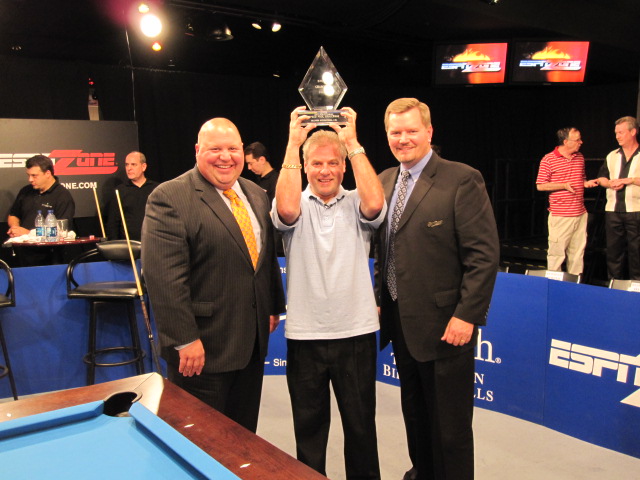 Luc Salvas with Scott Sullens of Fusion Tables (left) and Ivan Lee of Simonis Coth
The 2009 ESPN ZONE BILLIARDS SHOOTOUT was held September 16 in Las Vegas. Luc Salvas defeated Dave Pearson for the INTERNATIONAL SPEED POOL CHALLENGE crown and the $25,000 purse. ESPN Zone Las Vegas was host to the event, which was taped for three 1-hour telecasts on ESPN November 15..
The Fourth Annual INTERNATIONAL SPEED POOL CHALLENGE drew an international lineup battling for the $25,000 winner-take-all prize. The action in Speed Pool is fast and furious (the speed of light compared to  9-ball) with two sets, twelve racks in each set, the first set Straight Pool and the second set 8-Ball. Players routinely run racks of fifteen balls in about 1-minute and the player with the lowest accumulated time for twelve racks wins the match.
Salvas of Canada and Pearson, a native of England, emerged from the pack as the top guns. In the Championship Match, Salvas overcame Pearson by scores of 7:37 / 7:43 minutes the first set and 8:31 / 10:41 minutes the second set to capture the title and $25,000. In the match, Salvas ran five perfect racks for a bonus of 50 seconds deducted from his overall time.  In semifinal action, Salvas zipped past Jason Kane  8:16 / 8:31 in the first set and 9:58 / 10:35 in the second set. The other semifinal saw Person zap Bobby McGarth, the 2008 Champion, in straight sets 7:38 / 8:10 and 8:40 / 9:32. Pearson, who holds several Speed Pool records in the Guinness Book of World Records, displayed excellent form to defeat McGarth, who also won the event in 2007. Even then, it went to the last rack of the second set to decide the match.